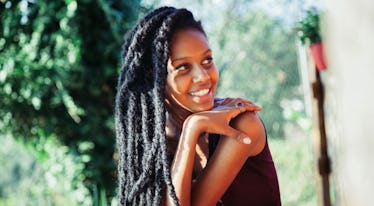 Being Single Actually Makes You A Better Partner In The Long Run, & Here's Why
You might think that being a good romantic partner means you have to go through a lot of big relationships first, and sure, sometimes that's true — but honestly, there are some ways that being single makes you a better partner, too. Just like dating — and sometimes, getting your heart broken — can teach you so many lessons about both love and yourself, so can all the time you've spent being single. And even if you're at a point in your life where you're actively ready to couple up, there's value in singledom.
For one thing, being single for a while means that you get to spend a lot of time focusing on just yourself — and dedicating time to being your best self, not to mention, figuring out what you want and what you deserve. All of those things lead you to not only seek out romantic partners who will actually fulfill the things you're looking for, but to be the kind of partner you'd hope to find, too. Plus, maintaining your independence while you're in a relationship is super important, and being single for a long time pretty much makes you a pro at that.
If you need more proof, here are six ways that being perpetually single can make you a better partner.