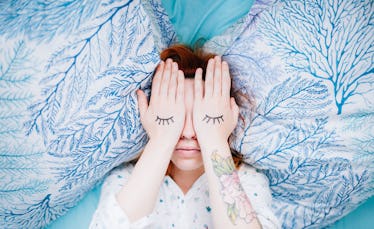 Lull Yourself To Sleep At Night By Thinking About These 6 Things Just Before Bed
Some nights, no matter how relaxed you are physically, your brain doesn't wind down. And it's kind of ~meta~ to think about how you can't stop thinking, isn't it? But you can't help it: You go through your bedtime checklist to make sure you've showered, dimmed the lights, set your bedroom to 64 degrees Fahrenheit exactly, and you even managed to meditate a little before crawling under the covers. You've done it all, yet the second your head hits the pillow, your mind's racing, and never about anything positive, either. The right things to think about before bed are almost never the things your subconscious wants to focus on, so it's up to you to switch from stressful to restful thoughts if you really want to get a good night's sleep.
Trust me, friends, I've totally been there. It's almost as if the moment your physical body is ready for sleep, mentally you're running a marathon, skipping all the water stations because your brain's perfectly fine just running on responsibilities that could, theoretically, be dealt with tomorrow. But no, your busy mind has to bother you by worrying about a 1 p.m. meeting, at 10 p.m. the night before.
If you're anything like me, then you've probably tried every solution you can possibly think of: sipping on warm milk, adding adaptogenic powders to your hot cocoa, listening to music for sleep, the whole nine. Unfortunately, our brains are sometimes just plain stubborn. However, your thoughts are pretty powerful, and you do have the power to change them, if you're willing to put in the effort. Here are some expert-approved, restful thoughts to help you drift off to sleep when slumber just won't come on its own.