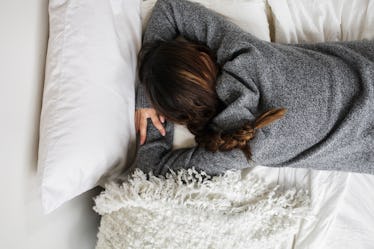 This Is How You Create A Bedtime Routine That Actually Works
Sleep can be the most elusive thing in your life sometimes, even when you feel flat-out exhausted. It quickly turns into a tricky, frustrating cycle: You're so tired that it becomes harder to fall asleep, so you don't sleep the requisite number of hours, and then you're even more tired the next day. But if you're having trouble getting some quality shut-eye within the confines of your busy schedule, it's high time you figure out how to have a sleep routine that will actually work for you and your individual body.
Coming up with a sleep routine that works for you is totally personal, and completely depends on the routines you already have in place right now. For example, if you spend 30 minutes catching up on the news and scrolling through social media before bed, you might want to focus on a little less screen time. In contrast, if you sleep in a hot, stuffy room, you might want to focus on creating a more cool, sleep-friendly climate.
Of course, there's no one-size-fits-all strategy for getting those much-needed seven to eight hours of sleep each night, but there are plenty of ways to work toward a healthier sleeping pattern. Here are seven quick ways to boost your bedtime routine and grab some extra Z's every night.