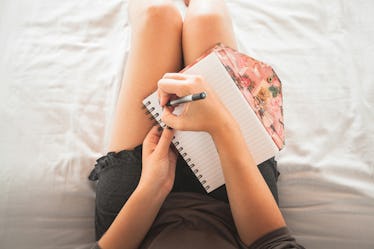 7 Reasons To Start Using A Bullet Journal To Organize Your Life In 2018
Choosing the right planner at the start of the new year is a critical, albeit incredibly personal decision. As for me, I'm a notebook hoarder, so I might be a little biased, but journals are getting a lot of attention in the health and wellness space, specifically ones that allot you more room to explore your creativity. One of my favorite YouTubers recently uploaded a video all about bullet journaling, which definitely piqued my curiosity. What is a bullet journal and why have I never heard of this writing tool until now?
I remember in high school, we were given a day planner at the beginning of the year. It was, essentially, a paperback, spiral notebook with an eagle (our mascot) spreading its wings across the cover page, sketched over a backdrop of red, black, and gold. Back then, planners were your standard pad of paper on which you would jot down homework assignments, email addresses, and write song lyrics when you were spacing out in class. Fast-forward to now, and planners are so much more than organizational tools given out in office buildings.
Bullet journals aren't just for scheduling meetings and making plans. They're handwritten listicles, stress-induced doodles, and diary entries. These are the tools you can use to organize your life, as well as escape from it when the going gets rough and the only thing left for you to do is scribble out the feels. Consider a bullet journal as an open-ended outlet you can use whenever, wherever, and however you need to. Here's why you need one in 2018.