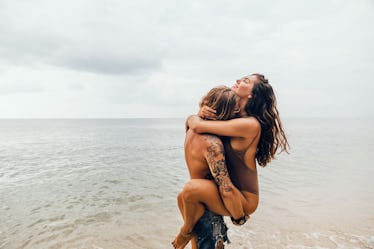 6 Sex Moves To Make Beach Sex Even Better This Summer 2019
The official kickoff of summer 2019 is less than a month away, my friends, and you know what that means... taking every activity you can outdoors. Reading a good book? Outside! Babysitting your niece? Outside! Looking for new sex spots? Outside! On the beach! If you're the kind of person who likes to do the deed on your local sandy shores, you may want to try these sex moves to make beach sex even better.
Sex on the beach may be something that you want to try this summer, but it's important to stress that having sex in public is, in fact, a Class A or Class B misdemeanor, so be extremely careful. To avoid any possible consequences, you may want to consider getting it on in a tent, or in your backyard if you want that public-but-private feel. If you are going to take your romp outside, do your best to keep it down. "While squelching your pleasure isn't ideal, it's imperative to keep quiet if you don't want to get arrested," Amy Levine, sex coach and founder of Ignite Your Pleasure, previously told Elite Daily. "Part of the thrill is the risk of getting caught, so choose a spot that's 'public,' but not obvious. Better that it's more of a fantasy rather than actually getting busted." Once you've gotten all the safety precautions out of the way, consider exploring one (or all!) of these six beach sex moves below.