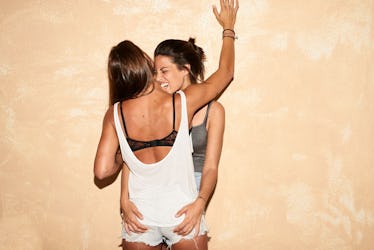 5 Sex Moves To Try During Summer 2019 That Are Hotter Than The Weather
Gemini season kicks off the start of summer and, IMHO, it makes everyone so horny, they can barely handle it. The great news about summer making everyone feel a little friskier is that you're definitely not alone in this... heat (pun-intended). There are a few specific sex moves to try during summer 2019 that could really leave you feeling satisfied. The thing about being super sexually riled up is that you can just really lean into that feeling and see what happens.
Whether you have a steady bae, a regular FWB, or you're looking to hook up with someone new, there are a ton of creative ways to spice up your sex life this summer. When brainstorming some creative new sex moves, consider what your go-to moves are why you like them. Do you like a certain position because of the view you have of your partner? Perhaps shift things up so you can see each other even better in the act. Do you really enjoy a certain move because it penetrates you in a very specific way? Consider shifting your angle so that it feels that much more intense. Alternatively, consider what your partner might really like and don't let them have it right away, because teasing something that you enjoy can really heighten the enjoyment you finally give in to temptation. For more ideas about how to heat things up this summer, check out the following moves.