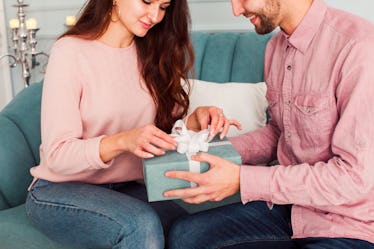 6 Oh-So-Sentimental Gifts To Give Your Fiancé On Your Wedding Day
Shutterstock
Vows, rings, dances, and toasts — these are just a few of the things you and your fiancé will get to share when you tie the knot. But what about a little token of your love? There are a plethora of gifts to give your partner on your wedding day that hold tremendous sentimental value and can serve as meaningful souvenirs of your nuptials.
Not all couples exchange gifts on their wedding day, of course. But presenting your future spouse with something special offers a way to show your appreciation for them as you embark on this next chapter of your lives together. Choosing the perfect present typically means taking your SO's interests and preferences into account. For example, if you and your foodie partner love cooking together, a customized recipe box that features some of your go-to dishes is bound to make them gush.
Regardless of what your partner's passions are, it's important to note that there's no reason you should have to shell out a ton for your wedding day gift. After all, you're both likely investing some of your own funds into the ceremony, reception, rings, and other aspects of the celebration. So, when picking out your wedding gift, heed the old saying that it's the thought that counts. The more careful consideration you put into the gift, the more likely it is to hold significant meaning for your SO.
Looking for a budget-friendly gift that's got a nostalgic touch? Here are a few ideas that are sure to hit your future spouse right in the feels.