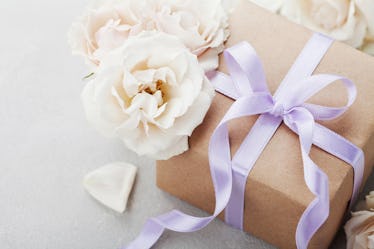 10 Wedding Gifts Under $100 For The Couple You Love, But Your Wallet Doesn't
It's that time of year again: Wedding season. Then time when, suddenly, all your weekends start filling up with save the dates. While this is a magical time, when you get to see the people you care about commit to share their lives together — and hopefully plenty of host bars to enjoy — all this love and romance can hit you in unexpected ways and places. I'm specifically talking about the wallet. That's because, with every "I do," comes the expectation of a wedding gift. While their registry may be be full of over overpriced flatware, there are plenty of other wedding gifts under $100 you can give that will thrill them just as much, if not even more, than a $200 salt and pepper shaker set.
That's right, you don't have to break the bank to give your friends and family members wedding gifts. The key to picking a nice gift is to think of items that they will actually use together as they move into this new phase of their lives. Things that will encourage them to enjoy spending time together or that help really make their house a home. Also great are items that they may want, but can't quite spring for themselves after paying for a wedding. With that in mind, here are some ideas of fabulous budget-friendly wedding gifts to inspire you.