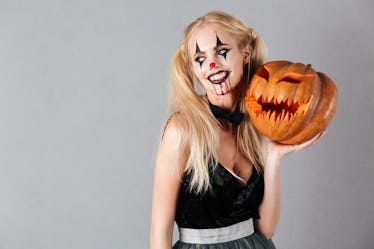 6 Genius Halloween Costume Ideas For Any Millennial Who's Obsessed With Memes
When October hits, I'm all about everything that's creepy. I'll start filling in my social calendar with haunted house tours, mazes, and the like. I make sure to block off ABC's 13 Nights of Halloween and live my life accordingly. But as dedicated as I am to the scary nature that is the All Hallows; Eve experience, I can appreciate the funny millennial Halloween costume ideas my generation comes up with every year. There is such a thing as dark comedy after all, right?
And, I can admit it, I'm not funny. Anyone who knows me will tell you half the time I get my loved ones laughing, it's at me, not with me, or otherwise completely by accident. Comedy is art, and I'm not just referring to telling a joke with a decent punchline or making slipping on a banana peel look like a genuine mishap. Authentically funny personas don't just throw around a spontaneous riddle every now and again; they embody the character, and isn't that what Halloween is all about?
You don't have to be a natural comic to don a funny Halloween costume and score some laughs. If you want to change it up from horror to hysterical this year, look to the internet for inspiration to dig up what pop culture moments and social media posts got people giggling in 2017. Here are a few to get you started.