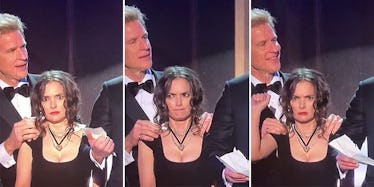 Winona Ryder During The SAG Awards Is You When You Saw A Dick For The First Time
Twitter
On Sunday night, Netflix's hit show "Stranger Things" won Best Ensemble in a Drama Series at the SAG Awards.
David Harbour got on stage and gave a monumental speech calling out President Trump on his hateful policies — and Winona Ryder was right by his side as it happened.
Needless to say, Ryder's facial expressions were... well, strange (haha, pun intended), to say the least.
And of course, the internet has been going crazy making fun of her for her bizarre reactions.
But I think we're all just looking at her face in the wrong context.
Winona Ryder's facial expressions during the SAG awards don't make sense for someone listening to an impassioned speech about equality and opposing injustice.
But they DO make perfect sense if you look at them from the point of view of a young girl about to swallow her first dong.
Don't believe me? Just take join me on the journey below. A little trip down memory lane, if you will.
Here is exactly how you reacted when you saw a dick for the first time, as told by Winona Ryder's facial expressions.
OMG, he invited me to go back to his room... aw, yeah!
Oh wait... that means he probably wants to, like, do stuff.
That's OK, I watched the Kim K sex tape once. I've GOT this.
OMG, he's taking his pants off. This is actually happening.
Wait, where even is it? I can't see.
Found it.
He wants me to do what with my hands and my mouth!?
All right, guess this is happening.
Don't spit, don't spit, DO NOT SPIT.
Swallowed like a freaking CHAMP.
Crushed it.
TOLD YOU.
So, maybe this was all just a big miscommunication. Maybe she thought she was playing the role of "girl seeing her first dick" and just forgot to let anyone else know she'd be doing that.
Classic mix-up!