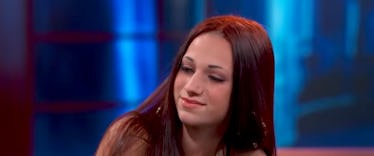 7 2017 Meme Halloween Costume Ideas To Honor A Year Of Truly Genius Memes
YouTube
It's 2017 and Halloween has been taken over by the internet (go figure). Only the millennials could take a holiday dedicated to dress-up and fantasy, and turn it into yet another prime example of how our world revolves around Instagram photos, viral Tweets, and the ever-popular, often pointless, but always hysterical meme. Seriously, why dress up in a #basic banana suit when you can choose from an array of clever 2017 meme Halloween costume ideas that'll secure you "life of the party" status the second you walk through the door?
Memes are, essentially, the life of the internet, but they aren't exactly new to the world wide web or, more specifically, the world in general. The meme phenomenon technically dates way back to 1976 when English ethologist and author Richard Dawkins published his bestselling book The Selfish Gene. Clearly ahead of the game, Dawkins schooled his readers on how basically every idea is the result of one already existing idea's natural replication. During the Saatchi & Saatchi's New Directors' Showcase at the Cannes Advertising Festival in 2013, the evolutionary biologist explained that his definition of "meme," and the concept of the now-popular internet meme, while not entirely one and the same, are fairly similar.
He told WIRED UK,
It's anything that goes viral. In the original introduction to the word meme in the last chapter of The Selfish Gene, I did actually use the metaphor of a virus.
So when anybody talks about something going viral on the internet, that is exactly what a meme is and it looks as though the word has been appropriated for a subset of that.
Looking to go viral this Halloween? Here are a few memes that basically broke the internet this year just so you could slay at any and all spooky festivities this fall.
1. Salt Bae
Turkish chef Nusret Gökçe takes grilling very, very seriously.
Making fine cuisine isn't a career, but rather a craft, and this meme has literally shone a new light on what a dash of salt can do for a piece of meat and beyond.
I personally love this meme costume because it's a) unisex and b) incredibly easy to put together with pieces you most likely already have in your closet, such as a white tee, pair of blue jeans, dark sunglasses, and a hair tie. Oh yeah, and a bit of salt to sprinkle on your squad when they ask you who you're dressed up as.
2. Kelly Anne Conway On The Couch
I don't know what's worse, the fact that Kellyanne Conway has lost all sight of proper White House etiquette, or that this is, admittedly, literally every single one of us come 5 p.m. Monday through Friday.
Maroon Dress, $25, Charlotte Russe
Get the look by slipping on a maroon dress, blonde wig, and popping a squat on your party host's couch. Don't forget to mindlessly scroll through Instagram as party guests pretend not to glare.
3. Roll Safe
I don't usually pay close attention to internet memes, but when I do, I always come across this one. This guy makes me crack up in hysterics every single time.
And while he may feel new to internet meme noobs like myself, he's been an online sensation for quite some time now, initially getting his start on a BBC "mockumentary" in 2015.
Sport a nice, crisp, navy blue button-down paired with a chunky gold watch, and point your forefinger knowingly to your head often throughout the night.
4. Danielle Bregoli (The "Cash Me Outside How 'Bout Dat" Girl)
If you ask me, this costume is all mouth, but if you want to talk the (sometimes impossible to understand) talk, you have to walk the walk.
Giant Hoop Earrings, $64, Etsy
Start by separating your hair down the middle, and straighten it to a point. Throw on a combination of your most trusted black tank top, a bra with white straps, and a pair of army green capris. Don't forget the gigantic, chunky gold hoops for good measure.
5. Romphim
Ugh, thanks to the RompHim phenomenon, men have it so easy this year when it comes to Halloween costumes that are just as simple as they are comfortable.
Male Romper, $43, ASOS
Whether you think the male romper is trendy or trashy, fashion says it's a thing with brands like ASOS and Tipsy Elves embracing the RompHim style.
Interestingly enough, the male romper is an investment, but as long as your willing to splurge, all you'll need is a pair of cool sunnies (and maybe a faux fur jacket) to complete the trendy costume.
6. White Guy Blinking
The goal here is to remain in a state of total disbelief for the entire night. Do you accept this challenge?
To keep in character, concentrate on a stream of thoughts like "really?" "are you serious?" and "I can't even RN" at all times throughout your BFF's boozy Halloween party.
Just don't be surprised if you start to piss some people off, because it's kind of rude, TBH.
7. Obama On Vacation
Imagine the radiant smile on your face when you're living your best life. That's Obama right here.
Safety Vest, $25, Kmart
This picture of Obama surfaced post-presidency, and all I can say is, can you blame the guy? I'd be sporting a toothy grin too if I were out of the White House right now.
Channel your inner happy-faced Barrack by slipping into your favorite bathing suit, throwing on a safety vest, some stunner shades, and smiling wide for the camera.