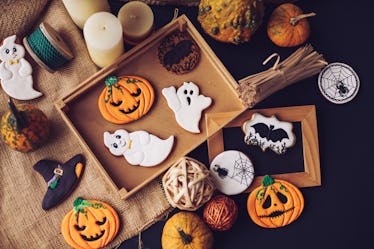 These Pumpkin Spice Cookie Recipes Will Be Your Batch Made In Heaven
fotostorm/E+/Getty Images
You're totally in #fallmode. You have harvest-scented candles lit throughout your home, you're watching Hocus Pocus almost every night, and you're baking lots of pumpkin treats. So far, you may have made a pumpkin spice cake and even pumpkin pancakes. Stop flipping through your recipe books and check out these delicious pumpkin spice cookie recipes on YouTube. Not to get too sappy, but you and this autumn dessert will be a real batch made in heaven.
To get started, you'll just need a few baking essentials like a mixing bowl, a hand mixer, and even a rolling pin. In addition, you'll need some sweet ingredients like brown sugar, pumpkin puree, and pumpkin spice. Once you have your tools and ingredients gathered up, you'll want to pull up your chosen YouTube tutorial from below on your phone or iPad, and place it in a convenient spot where you can always refer back to it.
The thing about baking that makes it different than cooking is that your measurements have to be exact. If they aren't, then your cookies might not come out right or rise once placed in the oven. So, follow one of the pumpkin spice cookie recipes here to a tee, and you'll have a true batch made in heaven.