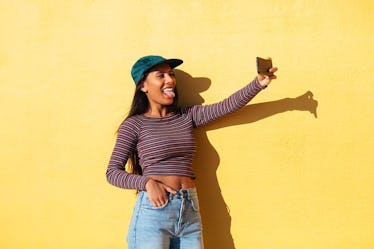 5 Photos To Text Your Significant Other On Valentine's Day That'll Give Them Heart Eyes
Whether you're in a long-distance relationship or simply split up for the work day, sending pictures to bae when you're apart is the perfect way to build anticipation. So, stocking up on some photos to text your significant other on Valentine's Day wouldn't hurt — especially if you want this year's lovestruck holiday to be one for the books. Regardless of whether your V-Day plans include a hot air balloon ride or Netflix and chilling with a bottle of wine, this year deserves to be special.
There truly is an art to sending your partner pictures when you're away. You have to be strategic with the timing, because sending a tantalizing pic at the right moment can do wonders. If you know that they'll have down time at school or at work (cough, cough: any moment when they'll be bored and scrolling on their phone), then Operation Send a Pic is a-go! Just be sure to send it with Invisible Ink if the two of you have iPhones and the photo is super scintillating.
Here are five ideas for Valentine's Day photos that will give your partner major heart eyes before the big date.