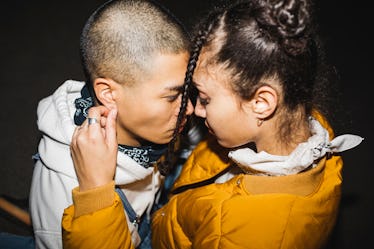 Send These 11 Photos To Your Partner If You Feel The Passion Fading
If you're anything like me, the first thing you do when there's a special moment is reach for your phone and snap a photo (or 20 million, with very slight adjustments to the angle of your face, because let's be real it makes a big difference). The result is, over time, your phone basically becomes a historical document with archives of special moments captured in images. That also means you have a ton of pictures to send your partner if the passion fades to choose from, if or when your relationship hits a natural lull.
It may be clichéd to say that relationships take work, but that doesn't make it any less true. There are natural ups and downs for any couple, but the key is to just recognize when things slow down instead of panicking and doing something rash to "fix" it. One of the easiest ways to do that is to just remind your partner (and yourself) how things felt early on when the passion came easy, plus all the ways that you're making each other's lives happier and more fulfilling. But it's not all nostalgia. You can also take some new pictures that remind them exactly why you're their bae. Here's some ideas to get you started, and it's as easy as scrolling all the way up.