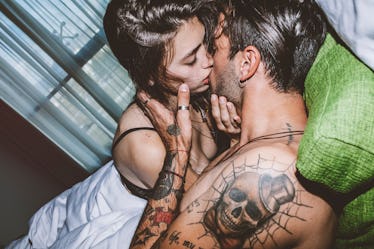 How To Revive The Spark In Your Relationship If It's Fading, According To Experts
Falling in love with someone who loves you back is the best feeling in the world. When you're first together, everything is new and thrilling and fresh, and the passion is effortless. If you're really lucky, that relationship will become a lasting one — one in which your lives will naturally mesh as you bond. It's a beautiful thing, but bad news: That's when the real work starts — aka relationship maintenance. Over time, that early passion becomes less effortless and it takes a bit more work to keep things hot, but bringing back the spark in your relationship is totally achievable, if you and your partner are willing to do the work.
To find out how to keep the romance and heat of your relationship alive, Elite Daily reached out to experts for advice. And here's the good news: Not only is the end result worth fighting for, but the things you need to do to get there are pretty amazing on their own. They bring back the sexy in your relationship, and can really help bring the two of you closer on multiple levels and strengthen your bond. In other words, if your relationship seems to have lost its spark, it doesn't mean it's on its death bed. It's actually about to be better than ever. Here's how to make that happen.