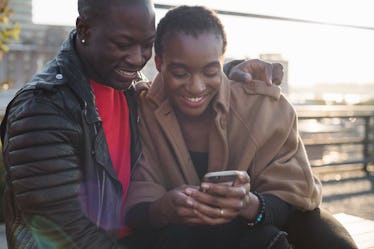 8 Valentine's Day 2019 Memes To Send Your Significant Other, Because Laughter's The Best Gift
Valentine's Day can be hit or miss, for even the most loving couples. Yes, you love your partner (and vice versa). But maybe the candy-colored, lace-frilled outpourings of love that make up V-Day just turn the two of you off. If your partner isn't about it, skip the Shakespeare-level declarations of love. You'd best save some Valentine's Day 2019 memes to send your significant other instead. I mean, it's not out of the ordinary to dread Valentine's Day (even if you're coupled up). The onslaught of chocolate, presents, and bulletholes in your bank account can seem like an abrupt and arbitrary change from your usual relationship dynamic.
It could also just be a matter of personality type. Chances are if you're a Taurus, Virgo, Scorpio, or Capricorn — and not a Pisces, Libra, or Sagittarius — you'd rather just treat Valentine's Day like any other day. (Earth signs are realistic and Valentine's Day is high-key the opposite of that!) But that doesn't mean that you and your partner don't love each other the other 364 days a year. It just means you'll probably stick to practical Valentine's Day gifts and the little things that count. If sappy Valentine's Day cards aren't up your or your partner's alley, here are eight heartfelt, foolish, and spicy tweets to send instead.