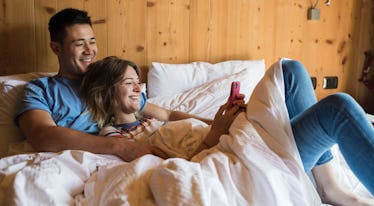 9 Funny Memes To Send Your Friend With Benefits, So They Can LOL Until Your Next Hookup
Having a friend with benefits can be pretty freaking great. I mean, is there anything better than a friend who can also make you orgasm? You don't have to celebrate anniversaries, schedule fancy dates, or meet each other's families (although those are all fun things to do with a serious partner). You just get to hang out, have sex, and laugh. These funny memes to send your friend with benefits will definitely keep the flame burning until your next hookup, and have you both cracking up in and out of the bedroom.
TBH, the best part of having a friend with benefits is that they're your friend, at the end of the day. So, you can laugh together, eat together, and just have a good time while still indulging in some nookie. It can be a perfect arrangement for some people, and if it works for you, then keeping in touch with your FWB when they're not in your bed isn't a bad idea. Sending them funny memes shouldn't be a practice solely reserved for serious couples. It's not that deep. (They're memes, after all.) So don't be afraid to send your FWB one of these to keep them laughing and thinking of you (and your next steamy encounter).