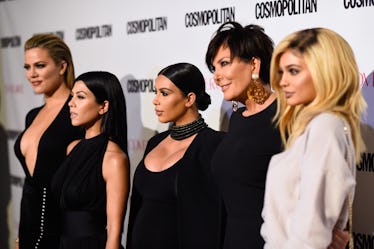 5 Things The Kardashian-Jenners Have Taught Us About Being Good Sisters
Frazer Harrison/Getty Images Entertainment/Getty Images
Confession: There was actually a point in my life when I didn't keep up with the Kardashian-Jenners. *Cue the gasps.* I didn't watch their television show, follow them on Instagram, or take the time to learn about their sister squad and how their empire came to be. But times have changed, and now I'm casually thinking about all the lessons about sisterhood we've learned from the Kardashians (in addition to living our best lives). Ugh, what would we do without them?!
To be honest, I really can't imagine what the world would be like without their sponsored posts, ad campaigns, products, and — dare I say it —drama. These sisters have single-handedly (with the help of their momager, Kris Jenner, of course) started so many fashion and beauty trends, and broken social media records time and time again. Nowadays, you would have to be living on another planet to not know about all the hype and suspicion behind Kylie's pregnancy with Stormi, or the existence of a lip kit.
Thankfully, though, we don't have to imagine or experience that world. We'll always be able to keep up with the Kardashian-Jenners and get their lessons on how to be good sisters. These five lessons, in particular, are my favorite to date.