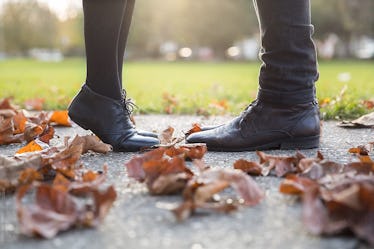 5 Fall Dates To Make You Feel Like You're In A Romantic Comedy
Summer may come with skin-baring outfits, thrilling flings, patio cocktails, and longer days, but I'm here to boldly claim that there's a better season when it comes to romance. With so many fall date ideas to choose from, there's honestly no contest. Hear me out. With the temperature dropping, there's all the more reason to snuggle up with someone. There's far less risk of unsightly sweating. Scarves, boots, and sweaters make for the perfect effortlessly chic ensembles. And besides, cuffing season is in full swing.
Don't believe me? One 2003 study revealed that in the fall, both men and women have higher levels of testosterone — a hormone that's linked to increased sexual desire. And another 2008 study found that male attraction changes with the seasons, with guys finding female bodies more alluring in the colder months. Indeed, fall is ripe with romance potential. And no, I'm not just talking about grabbing a PSL or seasonal brew with your boo or hiding under a down comforter with Netflix and candy corn. There are so many creative ways to celebrate autumn with your significant other that will make for memorable dates. You know — the kind of dates that are so good, you actually forget to Instagram about them.
Need some inspiration? Here are some outings that will have you feeling like you're starring in a hit rom-com.