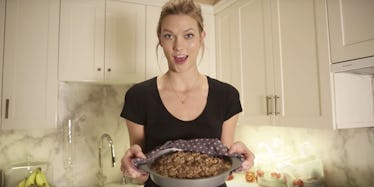 8 Most Instagrammable Recipes To Make After Apple Picking With The Girls
YouTube
It's officially the season of apple picking, pumpkin patching, drinking lots of apple cider, wearing flannel shirts on the regular, and soaking up every perfectly temperate day. It's fall, my friends. Though this season can translate to a busy schedule for many, it's without a doubt the best time of year for fun activities with your girl crew. And what's the best way to end an exceptional weekend with the squad? By cooking and baking some super Instagammable treats, of course. Get your aprons out, ladies, because we have some of the best apple recipes for a successful day at the apple orchard.
Baking with your friends is obviously a great way to have fun, and the best part about it is you'll be able to savor a variety of deliciously sweet treats. You'll inevitably make some memories in the kitchen, and you'll be bonding over an activity that allows you to put the phone down for a bit and focus on your main people. In the midst of all of your hectic schedules, baking together is a solid opportunity for catching up on some essential girl gossip.
If you're not the most incredible baker in the world, that's totally OK. With YouTube, there's no struggle to learn how do something or find a good ingredient substitute. To make your life even easier, here are eight of the very best recipes to put together with all of those yummy apples you picked with the girls.
1. Karlie Kloss' Spectacular "Apple Krisp" Recipe
What's not to love about this tutorial? The incredible Karlie Kloss is leading the baking for this recipe, so you know you're going to whip up something incredibly delicious. I don't know about you guys, but I want to try this "apple krisp" ASAP.
2. Adorable Apple Roses That Are (Almost) Too Sweet To Eat
How sweet and beautiful are these little apple roses? Your Instagram will certainly appreciate these gems. Not only do they look amazing, but you know they taste that way, too. The ingredients highlight honeycrisp apples, apricot preserves, and more, so you really can't go wrong.
3. Apple Crumb Muffins Sent Directly From Fall Heaven
Let's all be honest, here: How can you pass up a muffin fresh out of the oven? Put your crew's apples to good use with this yummy apple crumb muffin recipe. The surprise ingredient featured in this tutorial? Greek yogurt.
4. Dutch Apple Pie Cookies, Baked To Perfection
If you want to switch up your chocolate cookie baking skills for something seasonal, this is the recipe for you. You absolutely must try putting these together with the squad. The best part about them is the apple filling.
5. A Super Sweet Take On Your Freshly Picked Apples
If you and the girls really aren't into baking, this simple dessert is totally meant for all of you. You can't go wrong; it's as easy as scooping out the apples, putting in a few ingredients, and letting them bake. Your taste buds will certainly fall in love.
6. The Best Apple Bread You've Ever Tasted
This recipe calls for just 12 ingredients, and most of them are kitchen staples, so you don't even have to worry about drawing straws to see who has to run to the store. It's a relatively quick process to prep, so if you're new to baking and intimidated by following a lot of steps, don't fret. Just imagine that warm apple aroma filling the house...
7. Forget The Fair And Make These Fritters At Home
I honestly squealed a little bit when I saw this delightful recipe. Let's just say that you can't really steer me wrong with fried apples and dough. DIY apple fritters are just what the doctor ordered (or something like that).
8. These Festive AF Apple Cinnamon Rolls
I had to save my favorite for last, and this recipe does not disappoint. Yes, we're talking about caramel apple cinnamon rolls, people. Just watch the video and you'll be super impressed. The little helper in the tutorial makes it all the more sweeter.