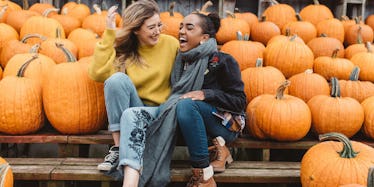 7 Perfect Fall Date Ideas That Put The "Spicy" In Pumpkin Spice
It's the most wonderful time of year. I'm Jewish, so for me, that isn't Christmas. Nope. It's pumpkin spice season (per Starbucks rolling out its seasonal flavors), which means autumn has basically arrived. Gone are maxi dresses, baseball hats, and frosé; bring on the turtleneck sweaters, apple cider candles, and knit beanies. Fall is my favorite season due to the colored foliage, yummy apple-themed treats, Halloween, and cooler weather (and my birthday, too). Along with cooler weather comes cooler dates. Fall date ideas are focused around the best parts of the new season, and are easy to do with someone you're newly dating or in an established relationship with.
I've done several of these fall dates before, and they are a fun time. Be sure, though, to not let the festivities get the best of you! I actually got so spooked out last year at a haunted house — one that I used to attend with my ex for years — that I had to excuse myself from the houses! (If you, unlike me, can handle haunted houses, keep reading below.) Take it from me, you don't want things to get that spooky on a date, so know your limits and what you can and can't handle. But otherwise, have a spooky and spicy time on these dates!