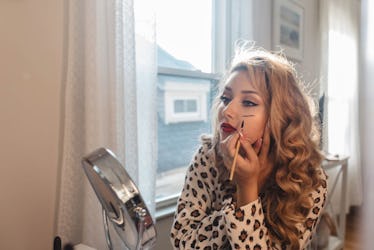 Your Halloween Costume Doesn't Have To Break The Bank, So Here Are 5 Cheap, Creative Ideas
If you're in college, you're probably short on two things: free time and cash. But hey, no judgment at all — I can totally relate. For most of my past Halloween celebrations, I've relied on easy, on-the-fly costumes instead of putting much thought into creating a look I'm really proud of. I've dressed up as Woody from Toy Story approximately five times; an old soccer uniform has always been another easy standby for me. But, if you want things to be different this year, these cheap Halloween 2018 costumes for college students will help you transform you into your all-time favorite role model, or even just something silly and fun — either way, you won't have to pull an all-nighter or break the bank to execute your idea.
Halloween is such a great time to express your interests in a unique way, and of course, it's always a perfect opportunity for a cool IG post, too. You can go in on some of these ideas with a group of friends, or just make a costume for yourself after you get back from class one day. The real trick to saving money this Halloween is to pick a costume idea you can execute with things you already have in your apartment or dorm room (or that you can at least borrow from a friend down the hall, or even your roommate).
The last thing you need is to drop $100 on a costume you'll wear exactly one time, that'll just make you itchy and uncomfortable the whole night anyway. Here are a few cheaper, easier ideas for your Halloween costume.