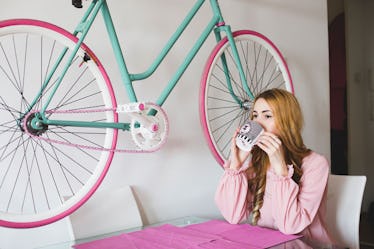 7 Little White Lies You Tell When You Don't Want To Share Your PSL With Anyone
Pumpkin Spice Lattes have officially arrived! You've been holding out on using your Starbucks gift cards for this sole purpose. To be honest, I wouldn't be surprised if you skipped all the way to the store. But what about when someone asks for a sip of your beloved beverage? You instantly panic. Even though you aren't super proud of the white lies you tell when you don't want to share your PSL, it has to be done.
Those little white lies mean more sipping for you. You're not against sharing with your bestie, but this is a PSL, and they aren't handing these babies out all Willy Nilly throughout the year. You sat and waited patiently for Starbucks to bring back this heavenly flavor. You did your time, and you'd be a fool if you didn't milk every single drop you can get.
Think about it — if you share, you're going to experience some form of regret later down the line. On that agonizing day when you're sipping your last PSL for the season, you'll remember that amount you shared and wish you can take it back. You never got to enjoy those extra sips, because you gave your happiness to someone else. Sharing is caring, but a PSL is an exception, so feel free to resort to any of these eight white lies.