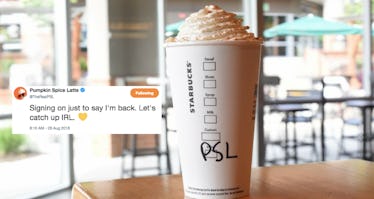 These Tweets About Starbucks' Pumpkin Spice Latte Will Make You Thirsty
All hail the holy Pumpkin Spice Latte. Starbucks' signature fall drink is back on Tuesday, Aug. 28. For weeks now, the anticipation has been building over the PSL's come back. You can now officially go out and order a PSL from Starbucks and Twitter is having a moment over it. These tweets about the return of Starbucks' Pumpkin Spice Latte are so good.
Labor Day Weekend may be the unofficial end of summer, but the return of Starbucks' Pumpkin Spice Latte is the unofficial start of fall in my book. It may still be August, but the Pumpkin Spice Latte is already blessing us with its presence. The Aug. 28 return is the earliest ever in the history of the Pumpkin Spice Latte, and Twitter isn't mad about it. Neither am I. I'm always pretty over summer by this time every year. It's hot, I'm sweaty, and nothing sounds better than a crisp, cool fall morning with a warm and toasty PSL in my hand.
Starbucks' Pumpkin Spice Latte has a cult-like following. As a longtime fan myself, I definitely understand why. The beverage even has its own Twitter account. I'm always a little giddy with anticipation about the PSL this time of year, and I'm not the only one. Diehard PSL fans have been waiting for the return for months now. So much so, that Starbucks created a Facebook group called the Leaf Rakers Society. It's basically a haven for Starbucks fans to talk about all things pumpkin spice. For weeks, Facebook users in the group have been speculating about the release date of the PSL. Alas, the day has finally come.
On Thursday, Aug. 31, you can get BOGO PSL's as a part of Starbucks' Happy Hour. Nope, that's not a typo. The promotion isn't just eligible for the pumpkin drink, though. That's just what I'll be ordering. Starbucks' Aug. 31 Happy Hour includes buy-one-get-one-free espresso-based drinks, size grande or larger. By definition, the Pumpkin Spice Latte is made with espresso, milk, and includes notes of cloves, cinnamon, pumpkin, and nutmeg, according to Starbucks.
You can order your drink hot or iced, however you prefer. I live in Florida, so needless to say I will be ordering my Pumpkin Spice Latte iced. While you're there, you may want to grab one of Starbucks' new Maple Pecan Muffins. The bakery treat sounds like it would pair great with the Pumpkin Spice Latte. Starbucks' Happy Hour starts at 3 p.m., but you need to be invited. There's no time like the present to sign up ahead of the Aug. 31 Happy Hour.
There are still a few weeks left of the warm weather season before the official start of fall on Saturday, Sept. 22. As you can see from some of these tweets, the hot temps aren't keeping Pumpkin Spice lovers from ordering their favorite drink. The 90-degree weather is not going to stop me either. BRB, I'm off to Starbucks. Happy PSL day, y'all!