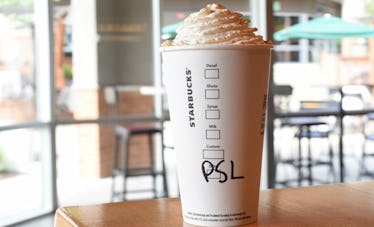 We Finally Know When Starbucks' Pumpkin Spice Latte Is Coming Back For 2018
STARBUCKS
If you're already dreaming of cozy blankets, crunchy leaf piles, and your favorite cinnamon and nutmeg-spiced sips, listen up. It turns out that Starbucks' Pumpkin Spice Latte release date is coming up soon (yes, really), so it's almost time to say goodbye to summer and hello to the unofficial start of fall in just a few days. Honestly, my taste buds are so ready.
It's almost that time of year when 80 degree weather and sundresses give way to the self-proclaimed heralds of autumn: Starbucks' PSL. According to USA Today, Basic Bettys will be able to start living their best fall lives earlier than ever this year, because Pumpkin Spice Lattes will make their debut even before September comes around. After weeks of rumors, the coffee chain announced on Aug. 21 that Starbucks' most festive latte is coming to stores on August 28, which means that you have literally just days to prepare your body and your bank account for your PSL habit. Summer, it's been real.
While up until now, the coffee gods have been infuriatingly quiet about when we can expect the latte to make its highly-anticipated return (they've literally been replying to queries on the Leaf Rakers Society Facebook Page with emojis), Starbucks workers have been more willing to spill the beans.
According to posts and pictures on the Facebook group and Reddit, many stores have already gotten their PSL supplies, and now Starbucks has finally confirmed that the fan-favorite sips will be available as soon as Tuesday, August 28.
This year's August release is even earlier than last year's launch of September 1, so PSL lovers can bless up before the months turn. While I'm well aware that the actual start of fall is over a month away on September 21 and that I've yet to get my Labor Day BBQ fix in, I'm more than ready to say goodbye to patio season and welcome sweater weather with open arms.
My feelings in a nutshell.
While I'll admit that it does feel more than a little weird to be thinking about sipping on a piping hot Pumpkin Spice Latte while it's still 80 degrees outside and I'm wearing flip flops, it is the PSL's 15th anniversary this year, and what better way to celebrate than with autumn in a cup?
In the meantime, you can get your PSL fix without any of the judgment even sooner, courtesy of Starbucks' new products that you can enjoy in the comfort of your own home. Is it just me, or do the retailer's new Pumpkin Spice Cookie Straws sound like the perfect accompaniment to their Pumpkin Spice-flavored ground coffee K Cups? There's even a single-serve Starbucks Pumpkin Spice Latte available if you absolutely can't wait another week for a barista to make you one (hey, no shame).
A PSL is everything I love about fall in a cinnamon and nutmeg-infused beverage, and I'm so here for its early return. Meanwhile, I'll be resisting the urge to take my cozy scarves and cinnamon candles out of hibernation for just a few weeks longer.