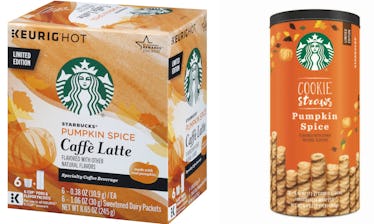 You Can Enjoy These Starbucks Pumpkin Spice Drinks At Home As You Wait For The PSL
Basic Bettys, step away from your Pumpkin Spice Latte (PSL) tracker for a moment, because Starbucks has got a PSA (pumpkin spice announcement) for you. It turns out that you might not have to wait for the seasons to change to start living your best fall life after all, because the coffee gods have created six Pumpkin Spice Starbucks drinks you can enjoy from the comfort of your own home. The best part? They are rolling out at your grocery store as early as mid-August, so let the PSL party begin.
In a press release, the Seattle-based retailer revealed that Starbucks Pumpkin Spice Cookie Straws and Starbucks Pumpkin Spice Flavored Ground Coffee K-Cup Pods are joining the existing PSL grocery store lineup starting the week of Aug. 13, and I'm shook.
Just to warn you, you're going to have a hard time choosing just one cinnamon and nutmeg-infused confection among Starbucks' great seasonal PSL offerings to take back to the comfort of your own home, and that's not a bad thing if you're trying to live your best, most basic life as soon as possible. The icing on the cake? You can do so snuggled up right on your own couch — cozy pajamas and a good book included.