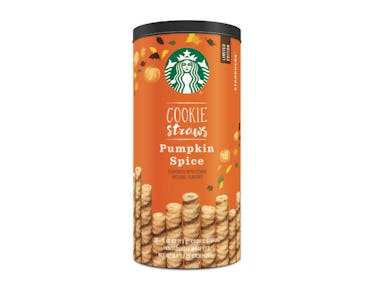 The Newest Pumpkin Spice Offering From Starbucks Will Totally Up Your PSL Game
Recently, I've been trying my hardest to really live in the moment. No matter how hard I try to truly enjoy these last few weeks of summer, though, I seriously can't help but look forward to fall. Between the upcoming foliage, comfortable cool weather, and, most importantly, pumpkin-spice everything, fall is my absolute favorite season — and you can't convince me otherwise. Thankfully, us fall-lovers won't have to look too far into the future to taste those good ol' fall flavors, because Starbucks Pumpkin Spice Cookie Straws are coming soon, and they're legitimately going to take over all of my coffee breaks.
In honor of Starbucks' Pumpkin Spice Latte turning a whopping 15 years old this year (since 2003 baby!), the coffee giant has created an absolutely perfect coffee complement with its Pumpkin Spice Cookie Straws. Seriously, these sweet snacks are the ideal coffee break bite, and they are probably the only thing I'll be munching on during all of my Sunday night Netflix binges. Beginning the week of Aug. 13, grocery stores nationwide will be selling Starbucks Pumpkin Spice Cookie Straws, according to a press release from the brand, and I am so freaking excited! In an email to Elite Daily, Starbucks confirmed that Pumpkin Spice Cookie Straws will roll out the week of Aug. 13, but the specific date will depend on where you live.
TBH, they sound like everything you could ever want in the season of pumpkin spice, so get your stomach ready for a beyond-wild ride.
According to the press release, Starbucks Pumpkin Spice Cookie Straws are made up of toasted white chocolate wafers, which are carefully rolled into convenient little straw shapes (so they're perfect for sipping PSLs, obviously!). Each wafer cookie is filled to the brim with rich white chocolate, and it's sprinkled with pumpkin spice, and, of course, a helluva lot of fall spirit. Oh my god, pinch me. This has to be a dream, right?
The release of Starbucks Pumpkin Spice Cookie Straws goes hand-in-hand with the release of the brand's Pumpkin Spice Flavored Ground Coffee K-Cup Pods. Each K-Cup has strong flavors of pumpkin, cinnamon, and nutmeg, and they, too, will be available next week in grocery stores nationwide, according to the press release. I'm honestly elated I can simultaneously enjoy the tail end of summer, while consuming pumpkin spice-flavored everything. This is truly a pumpkin spice lover's paradise.
As a seasoned pumpkin spice fan, you're most likely already familiar with Starbucks' Single-Serve Pumpkin Spice Caffe Latte K-Cup Pods, as well as the coffee chain's VIA Instant Pumpkin Spice Latte. They'll be returning to grocery store shelves yet again this year, according to a press release, and event though I'm living in the moment, I'm still secretly anticipating the exact moment when I'll finally get my hands on them, at long last.
In all honesty, I'm trying my absolute best to enjoy August. Unfortunately, my pumpkin spice cravings are way too real right now. I can't help but eagerly await its highly-anticipated arrival. Luckily, the 'Bucks is giving us a taste of other pumpkin- spice sips (and eats!) before the summer ends. My lunchbox is going to be filled with all the Pumpkin Spice Cookie Straws. And before that I'll start my mornings with Pumpkin Spice Ground Coffee K-Cups and Pumpkin Spice Caffe Latte K-Cups. Call me basic, but fall flavors will forever be my one true love.
Editor's note: This post has been updated to include Starbucks' response to the Cookie Straws' release date.