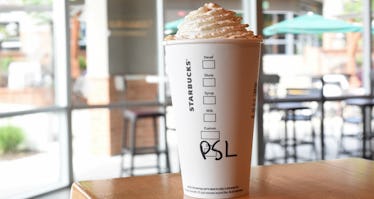 This Is When Starbucks' PSL Might Return To Make All Of Your Fall Dreams Come True – UPDATE
All hail the Pumpkin Spice Latte. Rumors are swirling online that Starbucks' beloved pumpkin-flavored brew is getting ready to make its annual debut. Could it really be true? The coffee chain recently created a secret Facebook group for PSL lovers and customers have reportedly spotted PSL supplies at various Starbucks locations. Needless to say, the internet is abuzz with guesses as to when the once-a-year drink could arrive. When Is Starbucks' Pumpkin Spice Latte returning for fall 2018? It may be soon.
UPDATE: On Aug. 21, Starbucks announced the Pumpkin Spice Latte is returning on Aug. 28.
EARLIER: The official start of fall may be Saturday, Sept. 22, but everyone knows that the real beginning of the autumn season is marked by the return of the Pumpkin Spice Latte. This year, customers are speculating that the orange-colored brew will return on Friday, Aug. 28, according to Business Insider. In an email to Elite Daily on Wednesday, Aug. 8, a Starbucks representative couldn't confirm the release date and replied that the brand's PSL is not currently ready for release.
The official Pumpkin Spice Latte Twitter account has been quiet since October 2017. Last year, the PSL waited until Sept. 1 to make its yearly appearance on Starbucks menus. If the past is any predictor of the future, the PSL Twitter account should start tweeting sometime in late August, just as they have the last couple of years. The Pumpkin Spice Latte is usually available by early September. While no exact release date has been given yet, the coveted PSL should be available for purchase before you know it.
It seems that stores are already prepping for the upcoming onslaught of PSL orders. I know I'll be placing one as soon as I can. Starbucks baristas have reportedly already been receiving the fixings for the Pumpkin Spice Latte, according to Business Insider. One Starbucks barista took to Twitter to share a picture of the large supply of Pumpkin Spice Flavored Sauce that's already been delivered to her store. Other baristas are posting pictures of the PSL ingredients on Reddit. OK, now I'm really ready for my first PSL of the year. Hurry up and give us the word, Starbucks.
Starbucks also created a private Facebook group for PSL lovers called the Leaf Rakers Society. According to the description, the group is a "is a safe place" for those who love all things fall. It's also a space that Starbucks hopes to use as a way to inspire their PSL-loving fan base to "work together with Mother Nature." To join the group, you need to answer just one question, "What's the best season? Autumn or Fall?" Clearly, there is no wrong answer here. (My request to join the group is still pending.)
These PSL rumors are just toying with my heart, though. I'm ready to say goodbye to August, sit around the fire, watch the leaves change, and sip on my favorite seasonal Starbucks drink. The pumpkin-inspired latte is more like fall in a cup if you ask me. The formation of the Facebook group and Starbucks baristas sharing snaps of shipments are all encouraging signs that the return of the Pumpkin Spice Latte is just around the corner. Only a few more weeks to go until Starbucks makes all of my (and your) fall dreams come true.
Editor's note: This article has been updated to include Starbucks' response.