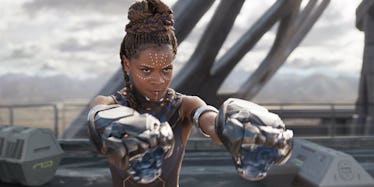 Shuri Is Getting Her Own 'Black Panther' Comic Book Series & It's Going To Be So Badass
Marvel
When Avengers: Infinity War ended, fans were shocked to see the death count included T'Challa, the newest superhero to be added to the Marvel pantheon, and one of Marvel's biggest hit films to date. But after the shock wore off, fans realized his little sister Shuri had not vaporized, and would perhaps inherit the crown. Black Panther director Ryan Coogler then threw gas on the fire, suggesting what the franchise needed was an all-female, Shuri-focused film. Now the comic books are getting in on the act. Shuri is getting her own Black Panther comic book series, and fans are ecstatic.
The series will hit bookshelves this coming October. Here is the plot synopsis, via Bustle:
Shuri is happiest in a lab, surrounded by gadgets of her own creation. She'd rather be testing gauntlets than throwing them. But a nation without a leader is a vulnerable one — and Shuri may have to choose between Wakanda's welfare and her own.
What happened to T'Challa? Why must Shuri put down her toys in the lab and take up the mantle of leadership? It's not anything tied to the films. Her brother has been lost in space, with no indication if he is alive or dead, or if anyone will ever see him again.
The new series will be masterminded by Afrofuturist author Nnedi Okorafor and drawn by Eisner-nominated artist Leonardo Romero. Okorafor is best known for her acclaimed novel Who Fears Death, which HBO recently picked up to adapt with George R.R. Martin executive producing.
This is not Okorafor first time out with the Black Panther series, having contributed to a several-issue run entitled Black Panther: Long Live The King as well as the ongoing Wakanda Forever series, focusing on the stories of the Dora Milaje.
Speaking to Bustle, Okorafor was thrilled to be taking on this new series.
[Shuri is] an African young woman of genius level intelligence who is obsessed with technology and has traveled spiritually so far into the past that she's seen Wakanda before it was Wakanda. The Ancestors call her Ancient Future. And she's super ambitious. What do I love about her? Alllll that and more. She's a character in the Marvel Universe who really sings to me.
The debut of a Shuri-centric story comes at the perfect time for both the comics and for Marvel Studios. Letitia Wright, who played Shuri in Black Panther, was the breakout star of the film, stealing every scene she was in. Fans who have now discovered the comics via the movie will be looking for Shuri-focused titles, and this series should find itself flying off the shelves.
But it also helps back the popularity of the Black Panther film at a critical time. Marvel Studios has been discussing mounting their first Oscar campaign for Black Panther, the first for a Marvel Cinematic Universe film. Letitia Wright will undoubtedly be one of the faces of the campaign, doing all the major red carpets to remind Oscar voters about her work. The two will help boost awareness of each other in the public consciousness.
The new Shuri comic book series will debut this coming October 2018.