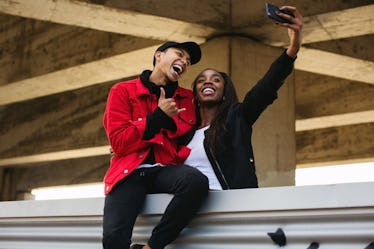 4 Zodiac Sign Pairings That Transition Well From Friends To Lovers
Couples who start out as friends often seem like the strongest ones. Even before they define the relationship, they already know a lot about each other's backgrounds, tastes, and values without any infatuation clouding the getting-to-know-you process. That's why turning to your social circle to find your next bae can be a solid bet, and the stars might be able to help you gauge just what to look for. When it comes to zodiac sign pairings that can go from friends to lovers, certain ones might tend to do better than others.
Typically, ultra-compatible friends-to-lovers matches happen when both parties' sun signs (main personality sign) or Venus signs (love sign) share the same element. For those who don't know, the 12 zodiac signs are split up into four elements: fire, earth, air, and water. Aries, Leo, and Sagittarius are fire signs. Taurus, Virgo, and Capricorn are earth signs. Gemini, Libra, and Aquarius are air signs. And last but not least, Pisces, Cancer, and Scorpio are water signs.
Dating a friend in your element (literally!) will feel like finding someone who just gets you. That's because you and the other person are most likely on the same page when it comes to how you move throughout the world and why. And so, beyond the tip of just dating someone in your element, here are four specific pairings that will make for a d*mn-near-perfect, astrologically aligned fit.