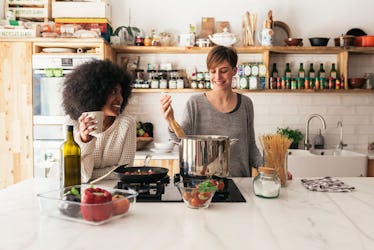 You Should Definitely Know These 4 Things About Your Crush Before Making It Official
The beginning stages of any crush are often all fun and games. You're getting to know someone for the first time. It's light-hearted, flirty, and refreshing. It's like when you'd find a new toy as a child and forget about all your other toys for the time being. But this time around, you haven't gotten tired of your new toy yet, and you want to put it on your top shelf — so to speak. But before you take that step, there are a few things you should know about your crush before making it official to ensure that you're not going into a new relationship blind.
"The problem with a crush is that love is blind, and more to the point, the early stages of love, passion, lust, and so on, typically puts blinders on us," Grant H. Brenner, psychiatrist and psychoanalyst, tells Elite Daily. "We get tunnel vision when we are falling in love. So, the main thing to do if you are thinking of taking the relationship into official territory is to take a step back and really get to know who this person is." You want to make sure you know what you're signing up for and who you're signing up with.
I spoke to a few experts, and here's what they think you should know before you make it official with your new crush.