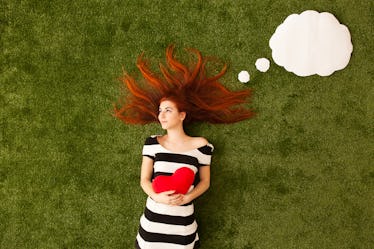 6 Brutally Honest Phases You Go Through When You Have A Massive Crush
My love life is basically a loop of, "Oh my GOSH, I'm in love!" and, "I hate all men," over and over and over again. I develop crushes with unparalleled ease, and tend to fall out of them just as quickly (well, most of the time). I'm so prone to crushing on others, in fact, that I tend to rapid cycle through the phases of a crush — whipping through each step without even realizing, the same way you might drive home from work and, upon arrival, think, "Wait, I don't even remember how I got here."
Truth be told, as I sit here and type, my mind is cartwheeling through the details of my most recent date. Because — what do 'ya know! — I've got a crush once again. I'd say I'm a solid Phase Two right about now. Something to which, like, every one of the contacts in my phone will can happily attest.
And, if you're also a human with a beating heart, you'll probably look at these six phases of developing a crush and nod along. Because who are we kidding, we've all been there — through the inevitable ups and downs that come with crushing on a new guy or gal.
Without further adieu, here's a look at the six stages we all go through when we've got a new crush (whether we'd like to admit it or not).