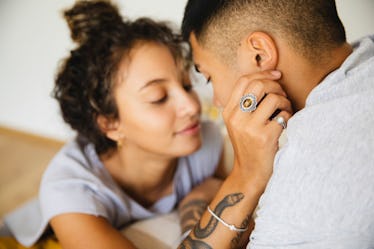 4 Signs Your Almost-Relationship Is Finally Getting Serious
Sometimes it's easy to pinpoint the exact moment a relationship went from casual to serious — when a moment of clarity made it obvious that the relationship was headed toward a commitment. However, it's often not about any one defining moment so much as a handful of baby steps, and perhaps before you even realize it, you've put a label on it. But what if you're still in that grey area where you feel like you're ready to take things to the next level, but you want to know if they are, too? That's when signs your almost-relationship is finally getting serious can be both really helpful and oh-so-reassuring.
According to relationship experts, there are ways to tell if your situationship is quickly turning into a real relationship. Some of them are subtle and some are more obvious, but they all follow a similar theme of enmeshment: Your lives are increasingly intertwining, and all the walls between you are breaking down. There's an ease and comfort between you as you continue to grow closer — a sense of security. But what does that actually mean? Below, the signs that your relationship is getting serious. If any of these sound familiar, it might be time to decide if you're ready to commit, the experts say.