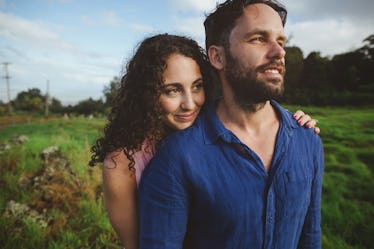 4 Red Flags Your Partner Isn't All In, Because You Deserve More
There's nothing quite like the pain of falling for someone, only to realize they aren't nearly as committed to the relationship as you are. If you suspect this could be the case with the person you're seeing, it may be time to start looking for the red flags your partner isn't all in. Although analyzing a partner's behavior can be stressful, you owe it to yourself to figure out where they stand sooner rather than later. According to matchmaking and dating expert Stef Safran, if you haven't spoken about a long-term commitment yet, it's important not to assume that things will end up getting super serious between you, no matter how hard that might be.
"Dating is just that, 'dating,'" Safran previously told Elite Daily. "It does not mean that you are in it for the long haul. You need to not assume that everyone you start dating will turn into a commitment or something long-term." While you're in the process of figuring out where your partner stands, it's also important to decide how you feel about this relationship being a part of your future. "Start by outlining what you want and need," relationship expert and online life coach at Blush Brittaney Young previously told Elite Daily. "Remember, if you don't have a plan for you, you'll wind up waiting around for someone else to fit you into theirs."
If your relationship feels like it's stalling, Young recommended reclaiming your power and deciding if wishy-washy behavior is something that fits into your vision for the future. If you're not sure whether someone you're dating sees a future with you, and they give you the runaround when you try to talk to them about it, here are some signs your gut instinct is right.