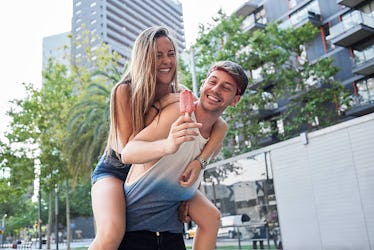 6 Signs Your Partner Sees You As A Fling & Nothing More, So Don't Catch Feelings
Want to know one of my least favorite things about dating? The stall out. In some ways, it's more frustrating and mystifying than being ghosted. Because, on the one hand, things with the person you're dating seem great. You talk regularly, you see each other often, you have fun together, and yet the momentum in the relationship is... well, there is no momentum. That's what I call the stall out. And usually, it's a situation where, if you really take a closer look at your dynamic, you'll start noticing the telltale signs your partner sees you as a fling all over the place. Then suddenly, the reason your relationship seems to be going nowhere begins to make a lot more sense.
While you can't force a relationship to evolve, you don't need to feel powerless in the situation, either. Knowledge is power, because it puts you back in control of your destiny. Maybe what you learn isn't what you want to hear, but you get to decide how to proceed; whether to just relax and enjoy things while they last, or move on and seek out someone who is on the same page as you. Either way, it becomes your choice. But the first step is to know what to look out for here. Here's how someone who sees you as a fling will behave, according to experts.