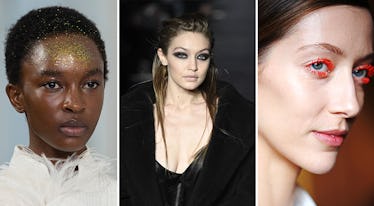 Here Are 4 Major New Year's Eve Beauty Looks You Can Steal Straight Off The Runway For Under $10
Shutterstock; Pixelformula/Sipa/Shutterstock; WWD/Shutterstock
For the first time in a lengthy history of New Year's Eve nights out, I'm making a promise to myself to not drop a ton of money on a sequined dress I know I'll only wear once. I make this mistake every single year, and yet every time NYE szn approaches, I feel that desire to make a statement in sparkles come bubbling up yet again. This year, I'm forcing myself to skip the sequined ensemble (or, to opt for one of the many worn-once options from parties past) and will be relying on some stylish New Year's Eve 2018 beauty trends to amp up my look. I've been scouring runway coverage to pull some makeup inspo from fashion shows and models, and even though the looks I've selected appear luxe and high-end, I've realized that they can all be easily achieved with mere effort and a crisp $10 bill. Save your NYE schmoney for the bar (or, if you're staying in, for the pizza delivery!) and try one of these trends to ensure you look fab for the New Year's countdown.
Colorful Lashes
First up, I'm considering a look I've never before tried, which is brightly colored mascara. I've always gone for the blackest blacks, but after seeing the vibrant lash looks models worn at the Dries Van Noten AW 2018 show, I'm considering giving it a try. Makeup artist Peter Philips was responsible for the clumpy, colorful mascara coating top and bottom eyelashes in every shade from fire-engine red to lime green. To get the look on the low, I plan on trying out the Maybelline Snapscara Washable Mascara ($8, maybelline.com) in shade "Deja Blue," which is bright enough to make a statement, but a little more subtle than lime green, if you feel me.
A Sprinkle of Glitter
Perhaps the most obvious holiday beauty trend inspired by the runway is glitter, but rather than the standard sparkly eyeshadow, Giambattista Valli's AW18 show stepped things up a notch with masks of glitter coating models' entire faces. While the thought of being a human disco ball is honestly goals to me, I admit I won't likely be trying this one at home, and will instead opt for the look models sported at the Preen By Thornton Bregazzi AW 2018 show, where makeup artist Val Garland sprinkled foreheads with a tasteful yet dramatic dose of golden glitter. This feels like a happy medium between a full-on glitter face and too-subtle glitter freckles, and I honestly think pairing a glitzy forehead with a slicked-back high pony is a wearable high-fashion trend. Catch me smearing ColourPop Glitterally Obsessed ($8, colourpop.com) across my face in shade "Avenue of the Stars" for a pinky, iridescent look. If I end up going all gold like the models at Preen by Thornton Bregazzi, I'll opt for shade "Puffin" instead.
Bold Berry Lips
As for the lips, my main NYE inspiration this year comes from the Rochas AW 2018 show, where models rocked the most plump, juicy, vampy berry pouts I've ever seen. The lipstick, expertly applied by makeup artist Lynsey Alexander, was bold and matte, and definitely an elevated take on the traditional, borderline-tacky (In my most humble of opinions!) cherry-red holiday lip. The Milani Amore Matte Lip Creme ($9, milanicosmetics.com) in shade "Vixen" can get you a similar hue for under $10, and the results will definitely have you feeling like a million bucks.
Sooty, Smokey Eyes
Last but not least, this New Year's Eve I'm considering forgetting everything I know about perfecting a sharp, sleek cat eye and going all-out smokey with a dramatic black eye look. This was a trend seen on tons of AW 2018 runways, including Max Mara and Marc Jacobs. Makeup artist Tom Pecheaux gave Max Mara models some serious Black Swan vibes with smokey black shadow pulled up and out past the brows in an elongated shape. At Marc Jacobs, kohl liner was used by makeup artist Diane Kendal to really smoke out the look on both the lid as well as the lower lashline, for a sexy gothic panda mood that sounds bizarre, but looked incredible. To nail such a dark, smokey look, I would opt for a liner like the Rimmel Kohl Kajal Waterproof Eyeliner ($4, target.com). A kajal formula contains a little soot, but it's still totally eye-safe, and it's ideal for really spreading black across the eyes in a way that looks blended but still edgy, and not messy.
While I don't recommend rocking all these runway trends at once — although, if you do, know that I'm nothing but impressed — all four are awesome options to step your beauty game up for New Year's Eve. Skip the sequined dress and use colored lashes, a sprinkle of glitter, a bold lip, or a sexy, sooty eye to make a statement this year, and prepare to start off 2019 getting a lot of compliments.