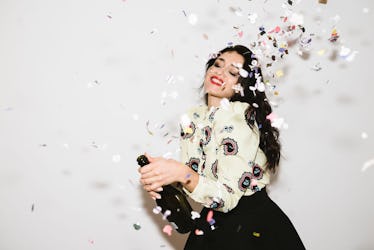 Here's How You Should Spend New Year's Eve, According To Your Zodiac Sign
New year, new you? This is everyone's favorite motto, especially after a year like 2018, full of ups and downs. What will you do to celebrate? Actually, never mind. I'm going to tell you how you should spend New Year's Eve 2018, according to your zodiac sign, because trust me when I say, there is so much to celebrate. So, whether you're popping champs with your besties, or dancing the night away, make sure you ring in the new year surrounded by love and positivity. Granted, I'm totally superstitious, but they say the way you spend New Year's Eve, is also a prelude to the rest of your year.
Something else that caught my attention is, the moon will be in Scorpio on New Year's Eve, which is always interesting, to say the very least. Talk about shedding and releasing, huh? Which reminds me, and this is my own superstition, but try your best to be under a roof when the clock strikes 12. The reason I say that is, there will be a lot of pain, anguish, and negativity being released, and with good reason. It's the final hoorah before we start again in 2019, and well, if you're nowhere near a roof, make sure you cover your head, aka your crown chakra. I know this all sounds silly, but trust me.
Nevertheless, here's how you should spend New Year's Eve, as per your zodiac sign:
Aries: Make It Romantic
The moon will be in Scorpio, and your sexy eighth house of intimate unions. Make it a romantic New Year's Eve with your boo thang! If not, go dancing somewhere sexy and mysterious.
Taurus: Celebrate With Someone You Love
Sharing is caring, and well, with the moon sliding through your seventh house of partnerships, looks like you won't be celebrating solo. It doesn't matter where you go, just make sure you're in good company.
Gemini: You Should Host New Year's Eve
Party at your place? Looks like you'll be in the mood to celebrate, and cater to the ones you love this year, Gemini. The moon will be sitting over your responsible sixth house, and you're all about the details!
Cancer: Party Hard AF
Let's face it, Cancer: You haven't been this excited in a long while. You're ready to celebrate, and you're feeling as confident as ever. Call up your besties, and put on your dancing shoes.
Leo: Listen To Your Intuition
You may or may not be in the mood to party this year, Leo. However, with the moon traveling through your domestic fourth house of home, I highly doubt it, and that's OK. Go with your gut.
Virgo: You Should Party Hop
Who are we kidding? Your smartphone will be buzzing with invites, and you won't bare the thought of crashing just one New Year's Eve party. Go have fun, Virgo. You deserve it.
Libra: Celebrate With A Fancy Dinner Party
There's nothing you love more than celebrating special occasions, especially when they're lavish, luxe, and aesthetically pleasing. This year you'll be in the mood to indulge.
Scorpio: It Depends On Your Mood
Oh, Scorpio. There's so much to celebrate this year, but with the moon traveling through your sign, as of right now, your plans are TBD AF, aka to be determined. Do what feels right.
Sagittarius: Make It A Pajama Party
Despite your insatiable FOMO, and all the amazing things headed your way this year, you could be feeling a little on the exhausted side this year, Sagittarius. Then again, that's what cat naps are for, right?
Capricorn: Spend It With Your Friends
Looks like you've got several holiday festivities coming up, Capricorn, and well deserved. You've got a lot to be grateful for, so don't think twice about turning up with your crew.
Aquarius: Do Whatever Makes You Look And Feel Good
With the moon traveling through your 10th house of fame, looks like the spotlight will be on you this year, Aquarius. That being said, don't post any drunk selfies you might regret later.
Pisces: Make It An Adventure
Whether you're traveling to NYC to see the ball drop, or taking a vacation with your loved ones, make sure you embrace the journey in the process. Do something exciting this year, Pisces!