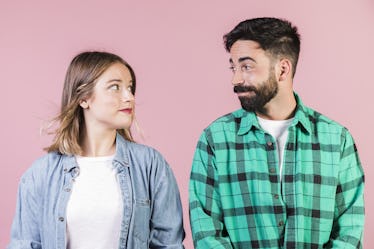 4 Personality Types Most Likely To Break Up & Get Back Together
Shutterstock
If at first you don't succeed, try, try again? While some people prefer to make a clean break after cutting ties with a romantic partner, others have a tendency to revisit their former flames. Interestingly, certain Myers-Briggs personality types are most likely to break up and get back together. Although these lovers share the same relationship habit, they couldn't be more different otherwise.
Some of these types show a preference for Introversion, while others lean toward Extroversion. Some of them rely on Thinking, while others make choices based on Feeling. That said, they do tend to have a few qualities in common. For example, those who have difficulty letting go of the past are obviously more prone to getting back with an ex. People who prioritize familiarity and comfort over risk and adventure are also more likely to return to an old flame.
Whether you choose to give a relationship another go often comes down to the unique and specific circumstances surrounding the breakup. But still, it seems that some people are just more innately willing and eager to make past romances work. Chalk it up to their determination, their idealism, or their sentimental nature — either way, these Myers-Briggs types are almost always willing to try again.