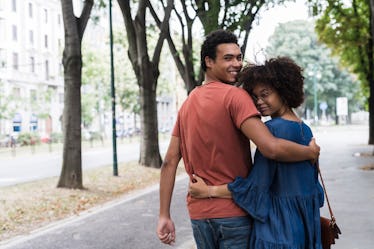 3 Myers-Briggs Personality Types Most Open To Getting Back Together With Their Ex
There are many reasons you might be the type of person who would get back together with their ex. Whether you're more of a lover than a fighter or you can always see the silver lining around any gray cloud — some people like to make up after a breakup. Whether you and your boo didn't really know what you had until you ended it or the timing was totally off, but now everything seems to be falling into place — if you and your ex are ready to give it another try, getting back together could be the thing to do.
Of course, if you're open to getting back together with your ex your Myers Briggs Personality Type may have something (but not everything) to do with it. Invented by power mother-daughter duo, Katharine Cook Briggs and Isabel Briggs Myers — your personality type can provide some serious insight into how you navigate romantic relationships. If you're a total romantic who will never give up on love or you can't go to sleep without solving a problem, your personality type could shine a little light.
Here are three personality types that are most likely to get back together with their ex.