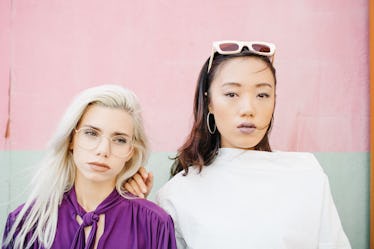 3 Zodiac Signs That Are Most Open To Getting Back Together With An Ex
Getting back with an ex is fraught with a lot of complicated emotions. It's definitely not unheard of, or a bad thing to do, but it does take a lot of communication and honesty about what you're hoping for in this new iteration of your time together. If you're open to getting back together with your ex, you might want to look to your zodiac sign, because some signs are pretty prone to forgiveness and connection.
When it comes to starting things back up with an ex, there are some important things to keep in mind, regardless of your sign. Nicole Richardson, therapist and relationship expert, told Elite Daily that it can be incredibly important to remember that time may have passed, but that doesn't mean that both of you have completely changed. "Keep in mind that it is not a clean slate, you are both coming in with an idea of how this could [or] should go and some [hurt]," Richardson says. "It is important to try and address resentments head on right away and not ignore them in the initial, 'OMG I'm so happy this is working' phase." She also recommends creating new, healthy habits around communication and conflict resolution.
The following signs all have traits that make them most likely to want to rekindle the flicker flame of a former fling. They probably all find alliteration annoying, too.