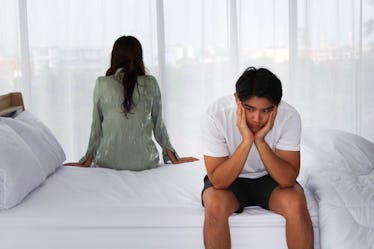 4 Gestures That Might Mean You're Headed For A Breakup
Shutterstock
Breakups are tough no matter how you slice them, but they tend to be a little easier on the heart if you can see them coming. Nothing stings quite like being blindsided, so keeping an eye out for gestures that mean your partner might want to break up can be a good way to brace yourself for the impending Big Talk. Even though it might hurt no matter what, being prepared can help you make sure you're not caught off-guard.
When a breakup feels like impending doom, it's easy to only reflect upon the good times you and your ex had together, and try to rationalize why you should stay a couple. But it's important to look at the reasons why breaking up might actually be a good thing (if you can find any). If you sense you'll be at the receiving end of this potential breakup, there has be a reason (or reasons) your partner is acting distant. Understanding that reason might be able to help lessen the blow.
"When people break up, so often they say 'I have no idea what happened! Everything was perfect!'" breakup coach and host of the Breakup BOOST podcast, Trina Leckie, previously told Elite Daily. "This is because they are basically panicking that the relationship has come to an end and are merely focusing on how to get it back — even if they were really unhappy in it."
None of that's to say these are standard guidelines. Everyone is different, and not every person will demonstrate cues or gestures that they want to break up. Sometimes breakups can feel like they come out of nowhere. That, too, is normal. Just remember that you're strong enough to overcome anything, but if you notice any of the following signs, you might just be able to place yourself one step ahead.