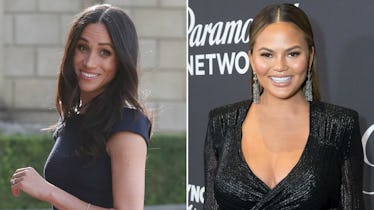 These 4 Celebs Have Had Meghan Markle's Back Throughout All Her Royal Family Drama
WPA Pool & Greg Doherty/Getty Images Entertainment/Getty Images
Celebrity relationships and friendships are a rare breed. These famous faces have their lives played out in front of the masses, whether it's the good, the bad, or the straight-up shady. In Elite Daily's new series, It's Complicated, we're highlighting the biggest celebrity "feuds" that took over Hollywood and dominated our Sunday brunches for weeks on end. We'll take a deep dive into the lives and social media feeds of our favorite stars and dissect what happened in front of the camera, what went down behind the scenes, and everything you might have missed in between.
Meghan Markle has really been going through the ringer with her family back in the States. Ever since the Duchess of Sussex announced her engagement to Prince Harry, Duke of Sussex, a slow trickle of family members began appearing in the press to weigh in and take ownership of their shared DNA with the new royal. Most notably, her father, Thomas Markle, and halfsister, Samantha Markle, have gone out of their way to blast Meghan and Harry in the media and cash in on the benefits. However, some of their famous friends aren't having it, and I have just a few favorite celebrities that have stood up for Meghan Markle.
To make the longest of stories short, Thomas Markle has apparently made it his mission to guilt Meghan and Harry for reportedly excluding him from their royal lives. Originally, the press was working hard to make it look like Thomas and Meghan had a frayed relationship before the wedding, something Meghan combatted by confirming her father was going to walk her down the aisle. Then, after a staged photoshoot with paparazzi and surviving a sudden heart attack, Thomas didn't make it to the nuptials. Since then, he's been capitalizing on media, reportedly for monetary gain, all while claiming Meghan and Harry are shunning him.
In the wings, Samantha Markle jumped in, writing a tell-all book and going so far as to blame Meghan for her father's death. (That is, if he were to die soon. Personally, I think she was grasping at desperate, attention-seeking straws with this one.) Meghan and Harry have remained mum on the whole thing and basically are just walking around kissing and being in love. Still, they've gathered quite the support system in their short time together as partners, and a bunch of their celebrity super-buddies have jumped up to defend them. While Samantha, Thomas, and various tabloids would have you believe the Duchess is a dismissive family member, many celebs have spoken out on behalf of Meghan throughout her short time as a royal, giving testament to her character.
Behold...