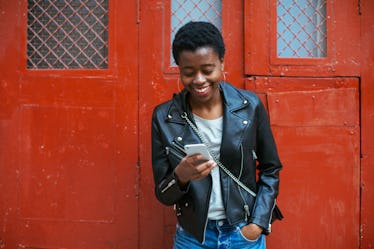 These 2019 New Year's Resolutions For Long-Distance Couples Will Rev Up The Romance
No one said long-distance relationships were easy. Still contrary to popular belief, they can be just as satisfying as relationships in close proximity — after all, you're forced to improve your communication skills, you always have visits with your boo to look forward to, and you learn to appreciate every single moment together rather than take your partner's presence for granted. There's always room for improvement, however. And since the start of a new year presents the perfect opportunity to re-assess how you both could up your game, it might be time to consider some new year's resolutions for long-distance couples, to rev up the romance.
The whole idea behind a new year's resolution is to give up something bad or start doing something good — something that will improve your quality of life, typically. Making these resolutions together means you're more likely to stick with them because you can hold each other accountable and continually check in on how you're doing in your efforts. Of course, the more effort you put in, the greater the benefits you'll experience in regards to your bond.
So, ready to rev up the romance? Try making any of these joint new year's resolutions and get ready to watch your LDR thrive.