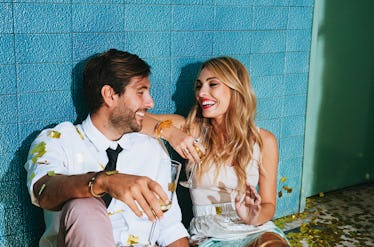 10 New Year's Resolutions For Couples To Make That You'll Actually Want To Keep
It's not even Christmas yet, but I have to admit that I'm already thinking about New Year's Eve. Most of what I am thinking about is what I am going to wear to the parties (something covered in sequins, obvi) but I'm also thinking about what New Year's Day represents: a clean slate. Every year, like so many people, I make my list of resolutions — and, of course, fail on most of them immediately. But occasionally, I have succeeded in keeping a few, and almost always, they were New Year's resolutions for couples, rather than ones I just made for myself.
One of the reasons that my couples resolutions have been more successful is because, by including a second party, you add another level of accountability. You and your partner spur each other on, inspire each other to want to keep going, and foster a closer bond with each other so that the relationship can continue to grow. Sound good? Yeah, I thought so. So what should you resolve to do together this year? Well, here are 10 couples resolution ideas to get you started.
1. Put Down Your Phones More And Be Present
This sounds simple, but in some ways, this may be the hardest resolution to keep — though, it's likely the most important. I'll admit, I'm straight up addicted to my phone. I don't even realize when I am reaching for it anymore. It's just suddenly there in my hand. And if I am honest, it definitely distracts me from my partner. So while I'm not saying go full cold turkey on your phone, resolve this year to set aside time where you both put your phone away and just be present with one another. Every. Day.
2. Volunteer Together
During the holiday season, there's a greater emphasis on giving back, but disadvantaged folks and furry friends need our help year round. This year, resolve to be a team that gives back year 'round by volunteering once a month. Not only will you improve the lives of others, but being of service will likely translate to greater empathy in the relationship as well.
3. Prioritize Sexy Time
It's so easy to prioritize getting busy when you're first together, but over time, that can cool off, which becomes a pattern all on its own. Instead, decide that this is the year to change your pattern by making sexy time a priority. Take turns initiating or, if need be, put it on the calendar.
4. Experiment In The Bedroom
While you're at it with prioritizing sexy time, resolve to shake things up as well. Give a new position or five a try to help you remember how much fun naked time with bae can be.
5. More Emotional Honesty
Being emotionally honest can be really hard sometimes, because it can involve making yourself extremely vulnerable or telling your partner hard truths you know they won't want to hear. But every time you hold back from being emotionally honest, you're placing another brick in the wall between you two. This year, break down that wall with a promise to keep it real — but kind — with each other.
6. Show More Gratitude Toward Each Other
Finally, an easy one! Everyone wants to feel appreciated by their partner. I mean, if you're with someone who doesn't appreciate you, what even is the point? Resolve to thank each other for the small kind gestures and the big ones this year.
7. Say "I Love You" More Often
Every. Single. Day. Say it like you mean it — because you do.
8. Go On A New Adventure Together Every Month
Your partner should be your best friend and partner in crime, so this year, get out there and take advantage of that by planning a monthly adventure together. It could be something small, like trying a new style of cuisine, visiting a place neither of you have been to before, or even learning a new skill. The key here is to expand your world together and just have some fun.
9. Give Each Other More Compliments And Less Criticism
Nothing eats away at a relationship more effectively than a constant stream of criticism. This year, promise to stop picking each other apart by being critical and, instead, lift each other up with compliments. Both compliments and criticism are patterns that pick up momentum, so pick the road less nasty.
10. Let The Past Go
It's time to start the new year with a clean slate and stop letting past resentments linger. If you can't do it on your own, get counseling together and resolve the problem, so you can leave the past where it belongs: in 2017.
Check out the entire Gen Why series and other videos on Facebook and the Bustle app across Apple TV, Roku, and Amazon Fire TV.
Check out the "Best of Elite Daily" stream in the Bustle App for more stories just like this!