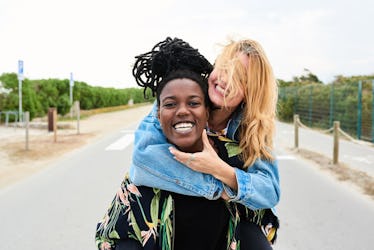 3 Zodiac Signs Who'll Tell You Exactly What They Want In Bed
For some couples, communication during sex is key for a mutually great experience, but most everyone communicates differently. This can have a lot to do with someone's personality, including the dynamics behind their zodiac sign. Turns out, the stars might affect how your partner tells you what they want in bed. Cancers and Scorpios, for example, can be shy at first. Modest Cancers can feel nervous about expressing their sexual desires. Meanwhile, Scorpios have a long-standing reputation for being the most kinky and unafraid to express it. But, the zodiac signs who'll tell you what they want in bed are usually the ones that are go-getters both in the streets, and in the sheets.
Leos, for example, can be loud, boisterous, and the life of the party. You'd be hard-pressed to find a Leo who doesn't also perform in bed. A Leo might not verbally tell you what they like, but they'll almost definitely let out a dramatic moan. Similarly, Sagittarians can be super opinionated and quick-witted. They always have something to say. So, when it comes to sex, a Sagittarian's nature will come out in the form of pointed dirty talk — so quippy, you might miss it. But these fire signs are often the only ones in the zodiac who aren't afraid to get hot and heavy, and will let you know exactly how to turn them on. Here are three other zodiac signs who won't be afraid to tell you what they want when it comes to their sexual pleasure.