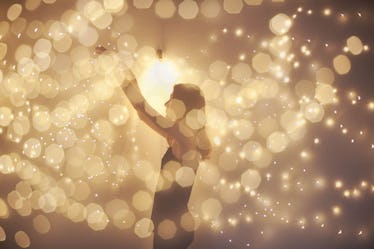 You've Been Warned: The Partial Solar Eclipse May Do These 3 Weird Things To Your Body
For someone who was never all that interested in astrology, I'm totally picking up what space is putting down in 2018. I know, I know — ask almost anyone actually tapped into the wild activity of the stars and planets thus far this year, and they'll tell you the universe has it out for us. Between retrogrades here and solar eclipses there, it's been an adventure, but the weird things the partial solar eclipse could do to your body on Saturday, Aug. 11, don't sound half bad in comparison to what's been going on over the past few months.
In fact, according to Katie Huang, co-founder of the wellness subscription service MoonBox, this highly anticipated event is going to bring about all the good vibes, which is then going to inspire you to take any steps necessary to better your body like you never have before. And yes, I know that sounds dramatic, and maybe even a little cheesy, but if recent retrogrades have you in a funk, I'm sure you'll appreciate this upcoming turn of events.
Retrograde, eclipse, solar — a lot of the vocabulary associated with space sounds downright terrifying. I mean, did you even know space goes on for infinity? It's honestly some mind-blowing stuff, so I had to make sure — for you, but mostly for myself (sorry not sorry) — that whatever this next partial solar eclipse has in store for the universe is, at the very least, copacetic. But in order to decode the message this partial solar eclipse is about to send, I asked Huang to explain what's actually going to happen in the sky on Aug. 11. Spoiler alert: It's harmless.
"A solar eclipse can only occur during a new moon, when the moon moves between the Earth and the sun in a straight line, resulting in the sun being temporarily blocked out or 'covered' by the moon," Huang tells Elite Daily over email. "A partial solar eclipse, as the name implies, occurs when the moon only partially covers the sun's surface." Basically, once you know what a solar eclipse is, figuring out what a partial solar eclipse means is pretty self-explanatory, right?
Unfortunately, according to Express, if you're located in the United States, you won't be able to see the eclipse in action. Plus, it doesn't last very long, and is also supposed to start at 4:02 a.m. ET, peak at 5:46 a.m. ET, and end around 7:30 a.m. ET. Personally, I probably would have slept through it anyway. But even though you probably won't be uploading any partial solar eclipse shots to Instagram this time around, Huang says you're likely to feel its astrological effects two days before and up to four days after the fact. Now that sounds powerful.
And, trust me, it is. The partial solar eclipse could do some potentially weird things to your body this time around, but experts are asking you not to fight it and, instead, to trust it fully. "Weird" doesn't necessarily equate to "bad" or "wrong." It just means your body is going to feel a little out of sorts until these good-for-you feels become its new norm. Here are some of the ways you might feel physically affected by the partial solar eclipse.