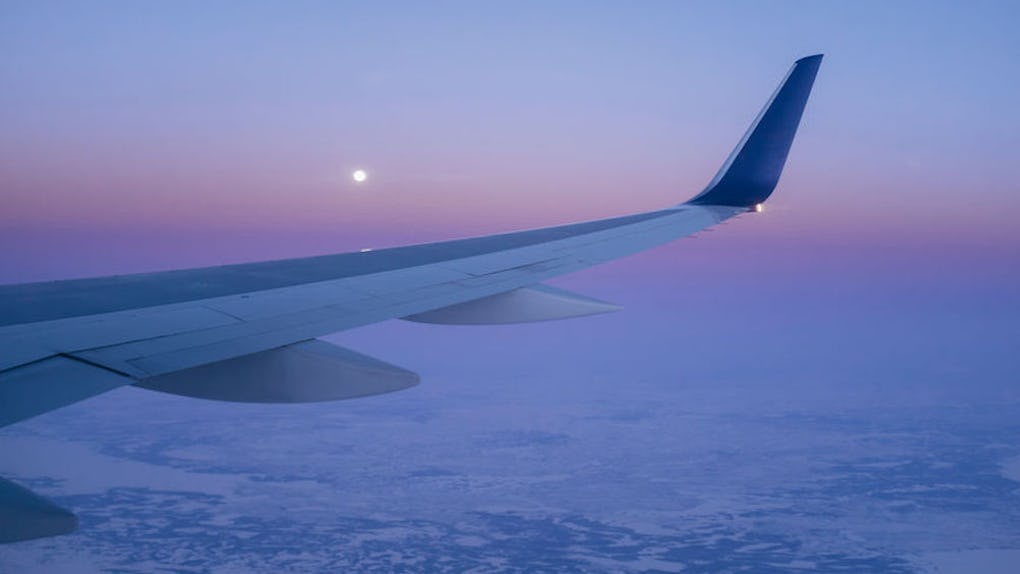 Paul Edmondson/Stocksy
32 Partial Solar Eclipse Captions For A Celestial Event That's Out-Of-This-World
Let's get out of this world. Summer is coming to a close, and you're already feeling a bit blue. You feel like every single planet must be in retrograde right now, and are trying to figure out how on Earth you're going to get your to-do list done. Keep your chin up! On Aug. 11, there's going to be a partial solar eclipse, so that's something to look forward to. Of course, you need some partial solar eclipse captions, because such a rad celestial event can't go unnoticed on social media. Lucky for you and your 'Gram, I've got you covered no matter what's happening in the galaxy.
For those of you who don't know, a solar eclipse is when the moon crosses over the sun. One celestial body covers the other, and for a minute, it feels like the lights went out, because the Earth is in a shadow. Unfortunately, this year, we won't get to truly experience the dark side, because only partial eclipses will take place. According to Space.com, these events essentially look like our lunar friend ate a small piece of this flaming star. (Flamin' Hot Cheetos, please step aside. There's a new snack in space.)
If you ask me, anything that's going on in our galaxy is pretty cool. Our universe is so large and expansive, and events like this make you realize how insignificant your worries really are. Especially when Mercury is in retrograde, you want nothing more than to moonwalk away from all of your problems. In fact, you'd buy plane tickets to an entirely different planet if it were possible. For now, you'll settle for an eclipse, though, and posting a picture that's out-of-this-world on social media. Don't forget a caption, OK?
1. "She had a galaxy in her eyes. A universe in her mind." — Unknown
2. "Live by the sun, love by the moon." — Unknown
3. "Stay wild, moon child." — Unknown
4. "Let go and trust the universe." — Unknown
5. "We ran as if to meet the moon." — Robert Frost
6. "To the moon and never back." — Unknown
7. "Born to chase the moonlight." — Unknown
8. "I think it is beautiful how the moon glows using the sun's light, and the sun never asks for anything in return." — Amanda Katherine Ricketson
9. "And the stars blinked, as they watched her carefully, jealous of her shine." — Atticus
10. "Shoot for the moon, darling." — Unknown
11. "Sweet dreams are made of cheese." — Unknown
12. "I blow kisses at the moon for the peace she brings." — Mia Hollow
13. "I'm such a 'Look at the moon!' person." — Unknown
14. "The moon made me do it." — Unknown
15. "Fly me to the moon." — Frank Sinatra
16. "We all have our time to shine." — Unknown
17. "Keep your face always toward the sunshine, and shadows will fall behind you." — Walt Whitman
18. "With freedom, books, flowers, and the moon, who could not be happy?" — Oscar Wilde
19. "Forever chasing the sun." — Unknown
20. "Keep your eyes on the stars, and your feet on the ground." — Theodore Roosevelt
21. "She was the type to fall in love with the moon, and everything that was beautifully unreachable." — Santi D.P.
22. "Look at the stars, look how they shine for you." — Coldplay, "Yellow"
23. "Love me like the moon intended, all the way through the darkness." —A.J. Lawless
24. "Darling, shine. That's all." — Unknown
25. "I have late night conversations with the moon, he tells me about the sun, and I tell him about you." — S. L. Gray
26. "How do you organize a party in space? You planet." — Unknown
27. "The sun watches what I do, but the moon knows all my secrets." — J.M. Wonderland
28. "You be the sun, I'll be the moon." — Unknown
29. "It's only a phase." — Unknown
30. "Look up and get lost." — Unknown
31. "A dreamer is one who can only find [her] way by moonlight." — Oscar Wilde
32. "When all the stars align..." — Unknown
Grab those Cheetos and at least one of these captions. Life can be stressful sometimes, but in my opinion, there's nothing that the moon and a few snacks can't solve. Your wildest dreams are waiting on the other side of this eclipse, thanks to this event happening in Leo. So, keep your chin up and your feet down on Earth for a little while longer. If nothing else, looking up means you won't miss out on yet another celestial show.