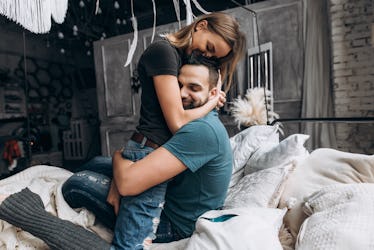 3 Nurturing Personality Types Who Love Taking Care Of Their Partners
Shutterstock
A relationship is an ongoing exercise in give and take — sometimes, when one partner's life has become a bumpy ride on the struggle bus, the other one has to step up and lend some support, encouragement, and an abundance of hugs to get them through. Some people thrive in this role because they're simply nurturing by nature. Those Myers-Briggs personality types who love taking care of their partners seem to get some kind of fulfillment and joy from tending to others' needs.
It may come as no surprise that the personality types who are most likely to fall under this category are Intuitive Feelers (NF). This unique combination of traits gives them a sort of empath superpower — an ability to ability to intuit others' feelings and then adjust their actions and responses accordingly. In fact, Intuitive Feelers often know how their partner is feeling before they can even express it themselves. This special talent makes these types spectacular caretakers because it enables them to ease their partner's troubles without them ever having to ask for help. Take the INFP, for example: The Mediator is not only generous in showering their SO with affection but also uses creativity to interpret and meet their needs.
There are so many ways in which someone can take care of their partner, and each of the following personality types has their own strengths to bring to the table. Some are always there to listen and offer words of affirmation, while others are constantly doing small practical gestures to make their life easier. Regardless, you can bet on one thing: These personality types will always go the extra mile to make you feel safe, supported, and oh so loved.