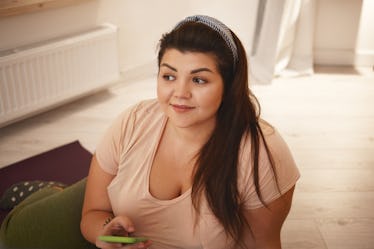 7 Texts To Send Your Partner If You're Struggling To Express Your Feelings
Shutterstock
If communicating your feelings to your boo is tricky enough in person, adding a screen in between you can feel like trying to navigate an obstacle course. Regardless of how much you love your boo or how long you've been dating, when you're having trouble expressing your feelings, texting can feel extra hard.
Texting can be a great way to communicate quickly and check in during the day. However, trying to unpack large emotional topics on such a little screen can sometimes prove to be, well, challenging. If you're not sure how you're feeling about something or you're feeling so many different things about something that it would be impossible to capture it all in a single text, asking your boo to speak in person or over the phone is always OK. Additionally, stating that you need more time to unpack where your head is at or letting your partner know that you will reach out when you are ready keeps everyone on the same page as you move through your relationship ups and downs.
If you need some inspiration, I've collected seven texts to send when you're struggling to express your feelings about something to your partner.