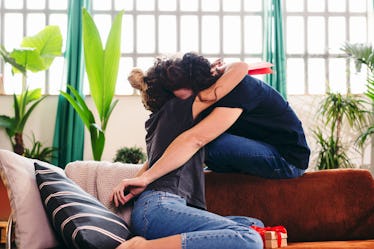 If Your Partner's Going Through A Family Emergency, Here's How To Support Them
Think of a time when you went through a difficult experience and someone was there to help you through it. They probably offered you a shoulder to cry on, an ear to listen, and a hug to remind you that you're loved. These gestures can feel small, but they make a big difference. When in a romantic relationship, it's important to be willing to be there for your partner when they face their own difficult experiences. Knowing how to support your partner through a family emergency doesn't always come naturally to some, but empathy and love are good places to start. After all, mutual support is a key part of any healthy relationship.
But there's more to supporting your partner than just giving them a big hug. Your support could very well mean the world to them. "It's very important for most people for their intimate others, especially romantic or life partners, to be present and supportive during family emergencies," Grant H. Brenner, psychiatrist, psychoanalyst and co-author of Irrelationship tells Elite Daily. "While there are some people who need less support than others, starting from a supportive position and asking your partner what they may need, and defaulting to providing support when it isn't clear what they need, is the most secure course of action."
Of course, you probably know that you need to be there for your partner, but knowing how to be there is a whole other story. Here's how to start.